The Yuvakshetra Institute of Management Studies (YIMS) has been striving to achieve the 100% Placement. The YIMS has special wing for placement, training, Campus & off Campus Recruitment programmes for all our students. The Institution ensures Alumni Association which will explore possible career options  in reputed organizations even after completing their course. For this purpose the Institute organizes counseling sessions, seminars and workshops. In the last 7 years, since this cell was constituted, the students of this Institute have found placement in many reputed companies in India & abroad.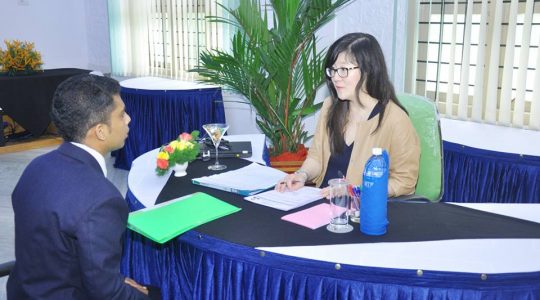 Yuvakshetra College  is proud of it is distinguish faculty for their dedication to assist the students in the classroom, lab, and library. The Institute encourages student-faculty interaction, both formal and informal to build a healthy academic environment. The Institute also has an enthusiastic non-teaching staff to help everyone and have an exclusive portal for placements.
List of Students placed in Infosys in the Academic year 2018-2019
S.no
 Name
 Specilization /
 Branch
1
Sharon Rose
B.Sc Computer Science
2
Vishnu K V
B.Sc Computer Science
3
Jithu S
B.Sc Computer Science
4
Devika K
BCA
5
Joyes Joseph
B.Sc Computer Science
6
Elizabath Sabu
BCA
7
Vishnupriya Babu
BCA
8
Amrutha Mohanan
B.Sc Computer Science
9
Anjali krishna P
B.Sc Computer Science
10
Gopika K
B.Sc Computer Science
11
Neethu K
BCA
12
Binisha B
BCA
13
Ahammed Jaseel M M
BCA
14
Pooja
BCA
List of Students placed in other Companies
| | | | |
| --- | --- | --- | --- |
| S.no |  Name |  Specilization / Branch | Company |
| 1 | Jayaram | B.Sc Computer Science | Wipro |
| 2 | Abhaya | II M.Com | Esaf Bank |
95% Hotel Management Students of YIMS are placed abroad in the following  Properties/Hotels/Cruise lines in the previous Academic year.
SL NO
NAME
FINAL PLACEMENT
STREAM
CATEGORY A
1
JERIN JAIMON
JW MARRIOTT, DUBAI
HM CS
2
VYSAGH V
MADINAT JUMEIRAH
HM CS
3
NITTU THOMAS
MADINAT JUMEIRAH
HM CS
4
SREERAM N
INTERCONTINENTAL FUJAIRAH
HM CS
5
ALBIN SHAJI
MADINAT JUMEIRAH
HM CS
6
ALEX SOMY
JW MARRIOTT, DUBAI
HM CS
7
BIPIN K BABY
INTERCONTINENTAL FUJAIRAH
HM CS
8
ROSHAN RENNY
NIKKI BEACH RESORT & SPA, DUBAI
HM CS
9
CHRISTO JOSEPH
INTERCONTINENTAL FUJAIRAH
HM CS
10
ABIN SEBASTIAN
HIGHER STUDIES
HM CS
11
AMAL JAISON
NIKKI BEACH RESORT & SPA, DUBAI
HM CS
12
ABHIJITH .V
MADINAT JUMEIRAH
HM CS
13
ARJUN. T. R
NIKKI BEACH RESORT & SPA, DUBAI
HM CS
14
SARATH U P
NIKKI BEACH RESORT & SPA, DUBAI
HM CS
15
VIGNESH. R
INTERCONTINENTAL FUJAIRAH
HM CS
16
AMAN PHILIP
INTERCONTINENTAL FUJAIRAH
HM CA
17
JERRIN RAJU KUNNATH
MADINAT JUMEIRAH
HM CA
18
SANTIN SUNNY
INTERCONTINENTAL FUJAIRAH
HM CA
19
T P YADHUKRISHNA
INTERCONTINENTAL FUJAIRAH
HM CA
20
VISHNU CB
INTERCONTINENTAL FUJAIRAH
HM CA
21
BASIL K JOHN
NIKKI BEACH RESORT & SPA, DUBAI
HM CA
22
ARUN DEVASSYKUTTY
MADINAT JUMEIRAH
HM CS
23
JOSU BABY
MS ASTOR CRUISE LINE
24
ANEESH.S
MADINAT JUMEIRAH
HM CS
25
PAUL GEORGE
MADINAT JUMEIRAH
HM CS
26
JOMON JOSE
MADINAT JUMEIRAH
HM CS
27
ALBIN P.V
NIKKI BEACH RESORT & SPA, DUBAI
28
ANISH TOMY
NIKKI BEACH RESORT & SPA, DUBAI
CATEGORY B
29
JISA M BENNY
THE MEYDAN HOTEL, DUBAI
HM CS
30
STINI YACOB
THE MEYDAN HOTEL, DUBAI
HM CS
31
ALBIN CHACKO
OWN ARRANGEMENT
HM CS
32
AJAY TOM
ATAYEB CATERING, MEYDAN, DUBAI
HM CS
33
ANANDHU REMANAN
OWN ARRANGEMENT
HM CS
34
ANISH JOSEPH
THE MEYDAN HOTEL, DUBAI
HM CS
35
EBIN JOSEPH
JW MARRIOTT, DUBAI
HM CS
36
EBINRAJ MATHEW
JW MARRIOTT, DUBAI
HM CS
37
ASWIN TOMY
THE MEYDAN HOTEL, DUBAI
HM CS
38
AJITH AUGUSTINE
THE MEYDAN HOTEL, DUBAI
HM CS
39
JERIN JOSEPH
JW MARRIOTT, DUBAI
HM CS
40
JOSE MANUEL
THE MEYDAN HOTEL, DUBAI
HM CS
41
AKHIL .K. ANTONY
MEDICALLY UNFIT
HM CS
42
PRAKASH C JOSE
MEDICALLY UNFIT
HM CA
43
ANSON CA
NIKKI BEACH RESORT & SPA, DUBAI
HM CA
44
GOPAKAUMAR P
NIKKI BEACH RESORT & SPA, DUBAI
HM CA
45
GODSON BIJU
JW MARRIOTT, DUBAI
HM CA
46
AKASH V JOHN
THE MEYDAN HOTEL, DUBAI
HM CA
47
SACHIN P
JW MARRIOTT, DUBAI
HM CA
48
LUOIS K SEBASTIAN
NIKKI BEACH RESORT & SPA, DUBAI
HM CA
49
EBIN THOMAS
JW MARRIOTT, DUBAI
HM CA
50
BENSE THANKACHAN
OWN ARRANGEMENT
HM CS
Sl. No
NAME
FINAL PLACEMENT
 STREAM
51
ANAND E
JW MARRIOTT, DUBAI
HM CA
52
JENSON THOMAS
THE MEYDAN HOTEL, DUBAI
HM CA
53
JITHIN T U
JW MARRIOTT, DUBAI
HM CA
54
JITHU JOHNY
THE MEYDAN HOTEL, DUBAI
HM CA
55
SACHIN S PALLISSERYRY
INTERCONTINENTAL FUJAIRAH
HM CA
56
ABIJITH K
JW MARRIOTT, DUBAI
HM CA
57
ROHAN I.M.
THE MEYDAN HOTEL, DUBAI
HM CS
58
ABY VARGHESE
JW MARRIOTT, DUBAI
59
AJAY ALEXANDER
BAB AL SHAMS, DUBAI
60
ALEX THOMAS
CATERIYA, DUBAI
61
EMIN M A
JW MARRIOTT, DUBAI
62
GRACIOUS VARGHESE
JW MARRIOTT, DUBAI
63
JIS MATHEW
ONE & ONLY ROYAL MIRAGE, DUBAI
64
JOYSE M P
JW MARRIOTT, DUBAI
65
MISHONE PAULSON
ONE & ONLY ROYAL MIRAGE, DUBAI
66
MUHAMMED SHAFEEQ P
JW MARRIOTT, DUBAI
CATEGORY C
67
ANUMOL K.M.
DISCONTINUED
HM CS
68
MOHAMMED SHAFI. K.Y
ATAYEB CATERING, MEYDAN, DUBAI
HM CS
69
SHABIR ALI .M. P
JW MARRIOTT, DUBAI
HM CS
70
BIBIN DEVESSIA
JW MARRIOTT, DUBAI
HM CS
71
ANEESH .K
ATAYEB CATERING, MEYDAN, DUBAI
HM CS
72
RAHUL RAJ
JW MARRIOTT, DUBAI
HM CS
73
NIHAL ROSHAN M
JW MARRIOTT, DUBAI
HM CS
74
ANOOP JACOB
JW MARRIOTT, DUBAI
HM CS
75
VIJEESH P
JW MARRIOTT, DUBAI
HM CA
76
MOHAMMED FAHID K
ATAYEB CATERING, MEYDAN, DUBAI
HM CA
77
AMAL DOMINIC
THE MEYDAN HOTEL, DUBAI
HM CA
78
AMAL SANTHOSH
ATAYEB CATERING, MEYDAN, DUBAI
HM CA
79
ALBIN ABRAHAM
INTERCONTINENTAL FUJAIRAH
HM CA
80
ALBIN MATHEW
JW MARRIOTT, DUBAI
HM CA
81
ALWIN VARGHESE
COPTHORNE HOTEL, SHARJAH
HM CA
82
GEORGEKUTTY JOSEPH
ATAYEB CATERING, MEYDAN, DUBAI
HM CA
83
JAIS JOHNSON
THE MEYDAN HOTEL, DUBAI
HM CA
84
JIBIN JAMES
JW MARRIOTT, DUBAI
HM CA
85
JISMON JOSE
JW MARRIOTT, DUBAI
HM CA
86
JOYAL GEORGE
JW MARRIOTT, DUBAI
HM CA
87
JOYAL JOSEPH
JW MARRIOTT, DUBAI
HM CA
88
PREMIL P SAJU
CATERIYA, DUBAI
89
RIYAS K S
CATERIYA, DUBAI
90
ROHIT N R
BAB AL SHAMS, DUBAI
91
SANGEETH K S
CATERIYA, DUBAI
92
SHYSON CHACKO
ONE & ONLY ROYAL MIRAGE, DUBAI
93
VINOD VARGHESE
THE MEYDAN, DUBAI
94
VINU MATHEW
BAB AL SHAMS, DUBAI
95
YASIR A P
JW MARRIOTT, DUBAI
CATEGORY D
96
THOMAS KURIAN K
ATAYEB CATERING, MEYDAN, DUBAI
HM CA
The Meyadan Hotel, Dubai
Burj Al Arab, Dubai
Madinat Jumeirah
Atlantis The Palm, Dubai
Jumeirah Beach Hotel, Dubai
Qatar National Convention Centre
Abudhabi Sheikh Palace
Al-Rotana, Doha
H&C Sharjah, U.A.E
Abudhabi Apartment Hotel
Al Hamra Golf Club, Raz Al Khaimah
Rotana, Dubai
Mercury, Al Ain, U.A.E
Grand Bell View, Dubai
Grand Flora, Dubai
The Oberoi, Dubai
Gloria Apartment Hotel, Dubai
Al Bustan Rotana, Dubai
One & Only Royal Mirage, Dubai
Emirates SSP
Mercure Grand Hotel, Jebel Haleel
Royal Mirage Cruise
Carnival Cruises
Costa Cruises
Other than Hospitality Management Sector, Many students are placed in the prestigious Multi National Companies like…
Infosys
Wipro
Cognizant
EXL Services, U.S.A