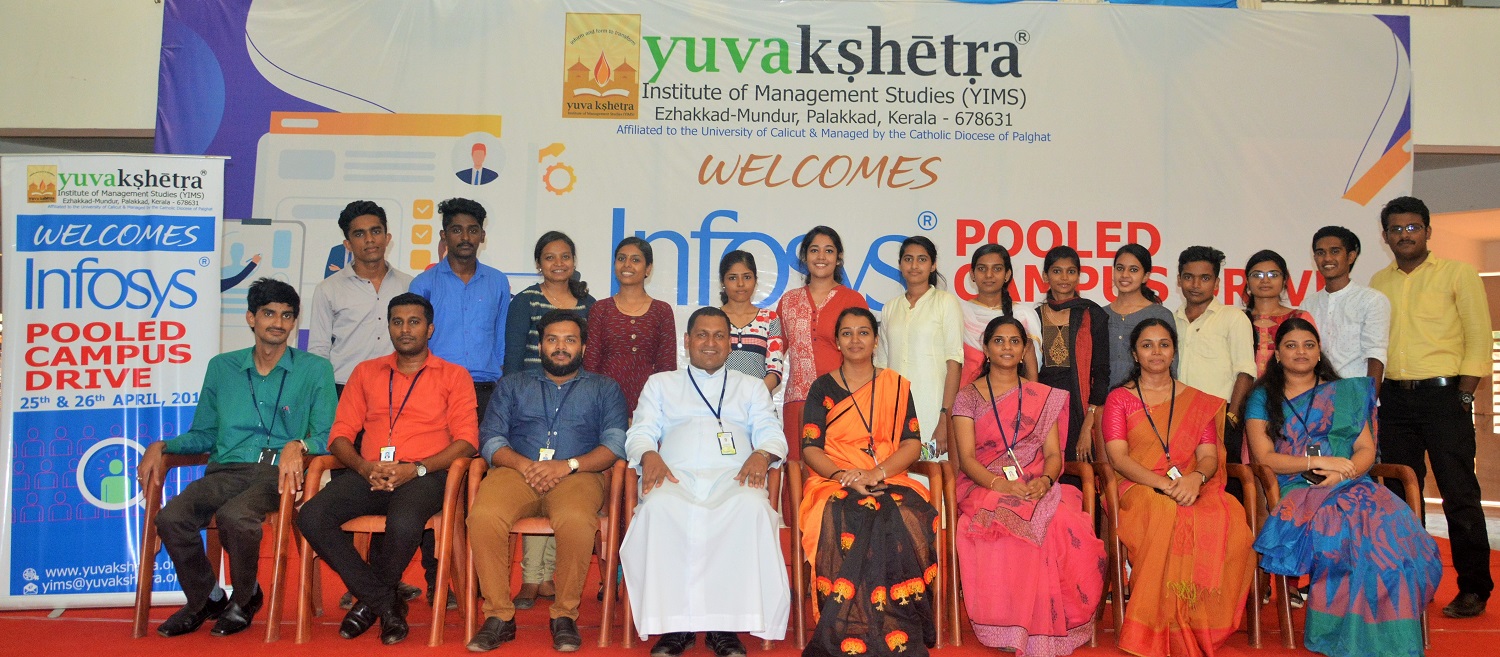 Infosys Pooled Campus Drive 2019, conducted at Yuvakshetra Institute of Management Studies (YIMS), on 25th & 26th April, 2019 was the days to cherish and remember for a long time to come in the history of YIMS, especially the Department of Computer Science. It was organized by Yuvakshetra Institute of Management Studies. This Pooled Campus Drive was held to motivate, support and encourage those who made a decision to take that first step into the corporate IT world with the motivation of their parents and pedagogues. 73 students are placed in Infosys through this Campus Drive.
With immense pleasure we would like to announce that, 13 students out of 73 selected candidates are from yuvakshetra. We are blessed and pleased to facilitate our students on their success and acheivement.
Our hearty congratulations to all the selected candidates. Your endurance and determination have finally paid off… Congratulations!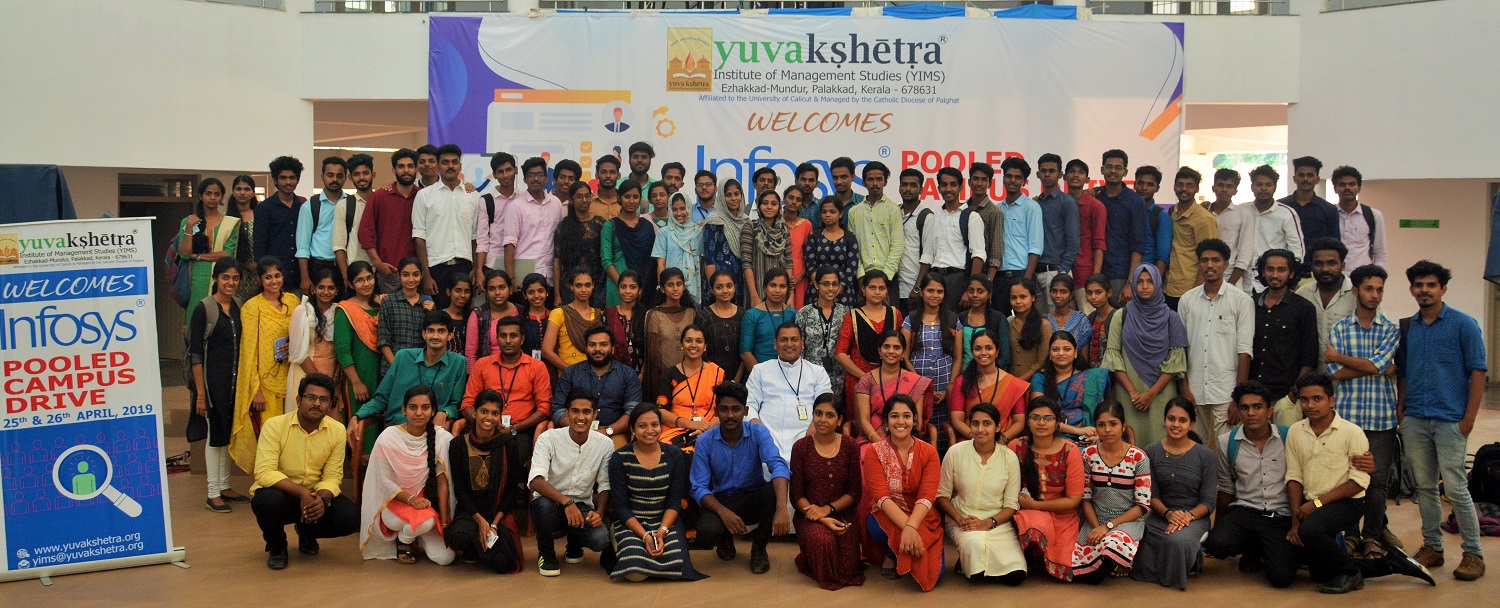 The list of selected Candidates are given below
S.no
 Name
College Details
College Name
Specilization / Branch
2
Vishnu K V
Yuvakshetra Institute of Management Studies
Computer Science
3
Jithu S
Yuvakshetra Institute of Management Studies
Computer Science
4
Devika K
Yuvakshetra Institute of Management Studies
Computer Applications
5
Joyes Joseph
Yuvakshetra Institute of Management Studies
Computer Science
6
Elizabath Sabu
Yuvakshetra Institute of Management Studies
Computer Applications
7
Vishnupriya Babu
Yuvakshetra Institute of Management Studies
Computer Applications
8
Amrutha Mohanan
Yuvakshetra Institute of Management Studies
Computer Science
9
Anjali krishna P
Yuvakshetra Institute of Management Studies
Bsc Computer Science
10
Gopika K
Yuvakshetra Institute of Management Studies
Computer Science
11
Neethu K
Yuvakshetra Institute of Management Studies
Computer Applications
12
Binisha B
Yuvakshetra Institute of Management Studies
Computer Applications
13
Ahammed Jaseel M M
Yuvakshetra Institute of Management Studies
Computer Applications
14
Anupriya K P
College Of Applied Science Chelakkara
Computer Science
15
Drishya P S
Bharathmata College Of Arts And Science
Computer Applications
16
Adarsh V Surendran
St Josephs College Devagiri
Computer Applications
17
Ajith Sunny
St Josephs College,Devagiri
Computer Applications
18
Antreesa Anto
Christ College, Irinjalakuda
Computer Science
19
Neenu Krishna
Christ College, Irinjalakuda
Computer Science
20
Jijin Sunny
Little Flower Institute Of Social Sciences And Health
Computer Science
21
Vimal K P
Chinmaya Mission College Kolazhy
Computer Applications
22
Sajina J Menon
Vanika Vaisya College Of Science And Technology
Computer Applications
23
T R Ranjith
Government Victoria College, Palakkad
Computer Science
24
Rahana K V
College Of Applied Science,Vadakkencherry
Computer Science
25
Femin Johnson
Christ College, Irinjalakuda
Computer Applications
26
Anu Krishna S
Mercy College
Computer Applications
27
Anish P
A J K College Of Arts And Science
Computer Science
28
Anju P S
College Of Applied Science, Vadakkencherry
Electronics
29
Deepak T
College Of Applied Science Vattamkulam
Electronics
30
Karthik Mohanan
Bharathmata College Of Arts And Science
Computer Applications
31
Sisira C S
Mercy College, Palakkad
Computer Applications
32
Anitha S
Vanika Vaisya College Of Science And Technology
Computer Applications
33
Deepthi S
Vv College
Computer Applications
34
Abhinand Chandran
Don Bosco College
Computer Science
35
Sruthy P
Mercy College
Computer Applications
36
Jithin K K
Christ College, Irinjalakuda
Computer Applications
37
Seemon Samuel C
Seedac College Of Arts And Science
Computer Applications
38
Shijindas K
Kr'S Sreenarayana College
Computer Science
39
Tom Tony
Christ College, Irinjalakuda
Computer Science
40
Adhithya D
College Of Applied Science Ayalur
Computer Science
41
Sreekutty S Kurup
St.Thomas' College Thrissur
Computer Science
42
Anjisha K
Kr'S Sreenarayana College
Computer Science
43
Amitha K
Nss College Ottapalam
Physics
44
Amrutha M S
Mercy College, Palakkad
Computer Science
45
Jincy Sebastian
Cas Ayalur
Computer Science
46
Mohammed Arif E
mic arts and science college athanikkal
Computer Science
47
Rahul C R
Govt Victoria college, Palakkad
Computer Science
48
Sachin K S
Nss College Ottapalam
Computer Science
49
Arun K
St.Joseph'S College Devagiri
Computer Applications
50
Deepthi K
Nss College Ottapalam
Physics
51
Manisha C A
Christ College, Irinjalakuda
Computer Science
52
Vishnu V
Sree Naryana Guru College
Computer Science
53
Fathimath Farhana V T
Seedac Arts And Science College
Computer Applications
54
SHYAMMOHAN M
St Thomas' College (Autonomous)Thrissur,Kerala
Electronics
55
Neethu M
Nss College Ottapalam, Palappuram, Palakkad, Kerala
Physics
56
Nimitha S
N.S.S College,Ottapalam
Physics
57
Riyas M
Nethaji Memorial Arts And Science College
Computer Science
58
Johns Devassy
Christ College
Computer Science
59
Kiran C K
College Of Applied Science Vattamkulam
Electronics
60
Karthik S
Cas Vattamkulam
Electronics
61
Sruthy K
Bharathmata College Of Arts And Science
Computer Applications
62
Rohini V
Jdt Islam College Of Arts And Science
Mathematics
63
Srilakshmi S
Bharathmata College Of Arts And Science
Computer Applications
64
Shameeha M
College Of Applied Science,Vadakkencherry
Computer Science
65
Syamprakash P
St Thomas College
Computer Science
66
Krishnapriya M
College Of Applied Science Ayalur
Computer Science
67
Aravind Krishnan R
Nss College Ottapalam
Physics
68
Anju A
St.Mary'S College , Puthanangadi
Computer Applications
69
Serene Sebastian
Christ College, Irinjalakuda
Mathematics
70
Sukritha C S
Mercy College,Palakkad
Computer Science
71
Anto K G
Christ College, Irinjalakuda
Computer Applications
72
Liston Stephen
St Thomas College
Computer Science
73
VINEETH M
Govt Victoria college, Palakkad
Computer Science